[05/10/2013] JPJ w/ Minibus Pimps @ NattJazz - May 26, 2013
NattJazz - Bergen, Norway | STUDIO USF
22:00 / Intense noiseambient collaboration
---
[03/11/2013] JPJ w/Supersilent - August 9, 2013 Oslo, Norway. Øya Festivalen
The combined elemental force of one of the world's most questing musical units and Led Zeppelin's legendary multi-instrumentalist resonates deep over Oya Festival. The art of instant composition will be taken to new and beautifully realised places by a peerless group of musicians. Over decades and across innumerable live and recorded projects, both sides of this remarkable collaboration have embedded themselves on the map of exploratory contemporary music: this tour will see them push each other further, harder, wilder and freer … a heavyweight collaboration entering uncharted sonic zones. [Click here for full story]
---
[01/22/2013] Soundbeam 2013 Competition
We're celebrating 25 years of making music with Soundbeam in 2013 and in order to mark the occasion we're inviting our global family of over 4,000 users to submit video examples of their Soundbeam work, to YouTube, with cash prizes for the best entries.
Our esteemed judging panel includes Led Zeppelin bassist John Paul Jones, conductor Charles Hazlewood, and composer and Soundbeam originator Edward Williams. Don't hesitate to contact us if you need any advice about how to enter or what we're looking for.
Closing date for submissions will be Friday 12th April 2013. Click here for info.
---
[12.18.2012] John Paul Jones on BBC Radio 3 (Jan. 1, 2013)

Fiona Talkington celebrates the New Year with special guest, multi-instrumentalist & Led Zeppelin bassist John Paul Jones, who plays live and chooses a selection of music.
---
[11.21.2012] Supersilent with John Paul Jones - Village Underground | 18 November
(Review: Dalston Sound) [Full article]
---
[11.19.2012] John Paul Jones and Supersilent, Village Underground, London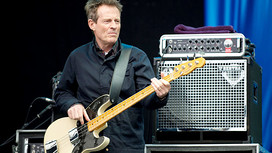 (Financial Times) The Led Zeppelin bass player thrives on the freedom to improvise that the Norwegian avant-gardists offer.
Pity the poor Led Zeppelin fan. The rock titans rolled the years back at the O2 Arena five years ago, but only 20,000 of the 20m who applied for tickets witnessed it. The rest wait in vain for a full reunion tour, the chances of which appear to be somewhere between slim and zero. "There are no plans for a Zeppelin reunion. Basically there isn't a band," John Paul Jones told the FT last month. Slim just left town. As though to reinforce the point, Jones appeared with another trio of musicians on Sunday. Led Zeppelin's bass player was with Supersilent, a Norwegian avant-garde improvisational threesome with whom he first linked up at a festival in 2010. Their music is dissonant and complicated, but their working methods are straightforward. Just turn up, plug in and play. Follow the sounds wherever they go.
---
[11.07.2012] "Showing his mettle in a new approach" (Herald Scotland)
[Full article]
---
The least godly of rock gods?
[Nov. 02, 2012] By Ludovic Hunter-Tilney
John Paul Jones has turned out to be Led Zeppelin's most adventurous and intriguing musician
John Paul Jones was known as "the quiet one" in Led Zeppelin. While Jimmy Page and Robert Plant preened at the front of the stage, the bass player hung around at the back, close enough to feel the whoosh of air from the drums as John "Bonzo" Bonham hammered them.
---
Supersilent & John Paul Jones (Press)
---
Supersilent & John Paul Jones To Tour UK
[06.25.2012] The collaboration of Norwegian avant-improv unit Supersilent and John Paul Jones continues with tour dates scheduled in the UK in November.
NOVEMBER:
14th - Birmingham, Town Hall | www.thsh.co.uk
15th - Glasgow, The Arches | www.thearches.co.uk
16th - Manchester, RNCM | rncm.ac.uk
17th - Bristol, Arnolfini | arnolfini.org.uk
18th - London, Village Underground | villageunderground.co.uk
---
JPJ & Seasick Steve "Guitare en Scène" 6-29-12

---
"Guitare en Scène" jam - 6-29-12
(Wayne Kramer, JPJ, Bernie Marsden & Chris Spedding)

---
John Paul Jones Appearing at Sunflower Jam 2012
[07.24.2012] - For one evening only, Bruce Dickinson, Alfie Boe and Ian Paice will appear on stage together at the beautiful Royal Albert Hall on Sunday 16th September 2012. Joining them on the night will be founding member of Led Zeppelin John Paul Jones plus Brian May and Kerry Ellis. TheSunflowerJam.com
---
[07.19.2012] Supersilent feat. John Paul Jones - Hafensommer Würzburg festival. August, 1, 2012 - 8:30pm
---
Performing with Rokia Traore - 6/22/12. (starts at 5:50)

---
Supersilent & John Paul Jones To Tour UK
[06.25.2012] The collaboration of Norwegian avant-improv unit Supersilent and John Paul Jones continues with tour dates scheduled in the UK in November.
NOVEMBER:
14th - Birmingham, Town Hall
15th - Glasgow, The Arches
16th - Manchester, RNCM
17th - Bristol, Arnolfini
18th - London, Village Underground
---
Erland Dahlen and John Paul Jones
[06.13.2012] Late Junction Sessions. Fiona Talkington's eclectic mix includes a specially recorded collaborative session recorded at Maida Vale Studios with Norwegian drummer Erland Dahlen and John Paul Jones. Broadcast: June 21, BBC Radio 3.
---
JPJ w/ Seasick Steve- Festival Guitare en scène
[06.11.2012] JPJ appearing with Seasick Steve, Festival Guitare en scène - Saint Julien En Genevois, France. July 29th, 2012. [Click here for info]
---
Minibus Pimps (John Paul Jones & Helge Sten) + Steve Noble / Sebastian Lexer duo
Friday, July 13, 2012, Cafe OTO
The first event in a new series at Cafe OTO co-curated by Norway's Ny Musikk organisation and OTO projects. This will be the UK debut of the new collaborative project between legendary UK musician John Paul Jones and prolific Norwegian producer/musician Helge Sten - perhaps better known as Deathprod and a founding member of Supersilent. The pair explore ravishing, intricate noise via a set-up of guitar/bass and various electronic devices. The evening will open with a duo appearance from Steve Noble and Sebastian Lexer - one of the highlights of the recent Freedom of The City festival. [More Info]
---
Biscotti – by Robyn Hitchcock and John Paul Jones
Thursday 6 December @ Cecil Sharp House, London
---
John Paul Jones To Appear On Manson Guitars Stand At London Bass Guitar Show
[02.29.2012] John Paul Jones will be appearing on Manson Guitars stand (number D5) at approximately midday for just one hour on the Sunday. John will be available to meet and greet fans and talk about his 5 star rated John Paul Jones signature bass, which will be available for purchase at the show!
This is a rare chance to meet a living legend, so make sure you get to the Mansons stand for his appearance from 12:00 to 13:00. [Click here for more info]
---
Widow of Atlantic Records founder Ahmet Ertegun donates $41 million to Oxford University. Oxford University gets $41 million from Ertegun
[02.29.2012 - AP] With a little help from Led Zeppelin, the widow of Atlantic Records founder Ahmet Ertegun has donated more than 26 million pounds ($41 million) to Oxford University to fund humanities scholarships for graduate students.
On Wednesday the university announced the Mica and Ahmet Ertegun Graduate Scholarship Program, which will initially fund 15 annual international scholarships for the study of subjects including literature, history, music, art history, Asian studies, Middle Eastern studies and archaeology. That will rise to at least 35 scholarships a year.
The university said the donation is one of the biggest in its 900-year history. [Full Story]
---
Supersilent feat. John Paul Jones - Sónar - June 14.15.16, 2012
Barcelona's International Festival of Advanced Music and New Media Art
[02.09.2012] Make way for a very special collaborative project between the Norwegian electronic improvisation band Supersilent and the legendary John Paul Jones of Led Zeppelin.
Jones is one of the most influential bassists in rock history, and is also known for his work as a producer, experimenter, and recently as a founder of Them Crooked Vultures, the supergroup he formed with Josh Homme (Queens of the Stone Age) and Dave Grohl (Foo Fighters, Nirvana). He adds charisma and experience to the dense network of sonic references (from science fiction to avant-garde jazz) that the flagship of the Rune Grammofon label has weaved over the past decade. (Date TBA)
---
John Paul Jones performing w/ Robyn Hitchcock & friends in Warwick on Feb. 12th
[02.02.2012] An evening of musical delight featuring Robyn Hitchcock, Krystle Warren, KT Tunstall, Eliza Carthy, John Paul Jones and Howe Gelb.
---
John Paul Jones To Perform With Spin Marvel @ Conexions, Olso, Norway - Feb. 4th, 2012
Spin Marvel & Guests: Saturday, 4 February | Victoria, Oslo / Recording session for the BBC
[01.31.2012] For over 25 years Martin France has been one of the major figures in forging the identity of British and European jazz. He's worked alongside the likes of Elvis Costello, Kenny Wheeler, Joe Lovano and John Taylor and has a particularly strong relationship with Norway, having worked with Bugge Wesseltoft, Arild Andersen and Sidsel Endresen. Tonight he brings his own group Spin Marvel, whose second album was released on Editions Records in 2010 to great acclaim, showcasing this relationship between Tim Harries and John Parricelli with his former pupil, Oslo based Terje Evensen (whose own Tape To Zero festival runs at Victoria in April). Their guests tonight will include the legendary John Paul Jones of Led Zeppelin fame, who seems to be spending more and more time in Norway working with Helge Sten (Minibus Pimps) and Supersilent (whom he met at the Punkt Festival in 2010).
---
[01.24.2012] John Paul Jones: A Composer Portrait: With Cambridge New Music Ensemble and interview with Stephen Montague
Sunday Coffee Concerts - Sunday, 20 May, 12noon-1pm
Exclusive concert/interview with John Paul Jones
Programme:
John Paul Jones original works:
Co Motion for strings & keyboard (commissioned by Stephen Montague)
Co-Motion for winds & guitar (commissioned by Stephen Montague)
Millennium work
New work
Cost: £7/£4 concessions. Buy online: University of Cambridge estore or call 01223 748100.
(JPJ will not be performing any Led Zeppelin material during this event. This is a conversation about new music, technology and composition.)
---
[12.08.2011] Jones Receives Honorary Fellowship
Led Zeppelin legend John Paul Jones was awarded an Honorary Fellowship from a U.K. music school on Thursday (Dec. 8, 2011) in recognition of his career.
The bassist received the accolade at a ceremony at prestigious performing arts college Trinity Laban Conservatoire of Music and Dance in Deptford, south London.
Musician Ravi Shankar and Academy Award-nominated composer John Powell are among the previous recipients of the honour given by the college, Britain's only music and contemporary dance conservatoire. [contactmusic]
---
[11.04.2011] Minibus Pimps perform live as part of PUNKT @ Enjoy Jazz Festival
Monday, November 14, 2011 at 8:00pm. Alte Feuerwache Mannheim

Official Minibus Pimps Facebook | Enjoy Jazz Fest
---
[08.28.2011] JPJ Joins Seasick Steve onstage at Reading Festival
This is the third UK festival show this summer where the pair have performed together, after Jones also guested with the blues veteran at the Isle Of Wight Festival in June and at Latitude Festival in July.
The bass legend, who recently played alongside Queens Of The Stone Age's Josh Homme and Foo Fighters' Dave Grohl as part of Them Crooked Vultures, performed on Seasick Steve's most recent album 'You Can't Teach An Old Dog New Tricks' and reprised his role as a collaborator on the Main Stage today. [NME]
---
[07.17.2011] JOHN PAUL JONES & SUPERSILENT- John Paul Jones will once again join forces with Helge Sten and Supersilent, this time for a performance at the Molde International Jazz Festival in Norway on 19 July 2011.
http://news.symbolicsound.com/2011/07/john-paul-jones-supersilent/
---
[07.04.2011] Seasick Steve & JPJ make a surprise appearance at the Foo Fighters show last night in Milton Keynes.
---
[07.03.2011] Video of Seasick Steve w/JPJ at the iTunes Festival is currently available on the free iPhone / iPhone app.
---
[07.01.2011] John Paul Jones and Helge Sten (from Supersilent) announce the debut performance of a new and unique collaboration entitled 'Minibus Pimps' at this year's Punkt Festival in Kristiansand, Norway.
Using electronics, samplers, processors, instruments and ipads, the duo will be creating instrumental improvisations that will at times be ferocious and at other times intricate. Come and take a ride with us!
---
[06.12.2011] John Paul Jones with Seasick Steve @ Isle of Wight
---
[05.31.2011] Seasick Steve w/ John Paul Jones live in 360 degrees
CLICK HERE TO VIEW the May 26th London charity show with John Paul Jones. (You can move the angle of the camera 360 degrees, zoom in/out, by clicking/dragging your mouse on the video)
---
[05.30.2011]

PROMO VIDEO:
Seasick Steve: You Can't Teach An Old Dog New Tricks

(w/JPJ)




Seasick Steve - You Can't Teach An Old Dog New Tricks. New cd w/ John Paul Jones.
---
[05.27.2011] JPJ Joins Seasick Steve at London Charity Show.
A furious and frantic performance from Seasick Steve. "Pretty good band, huh?" was Steven Wold's understated recognition of his extraordinary musicians for this benefit gig.
The veteran Californian bluesman, better known as Seasick Steve, was admiring the contribution not only of his grizzly bear of a drummer, Dan Magnusson, but also John Paul Jones. The Led Zeppelin bassist is a fan and he joined in for this Streets of London show for The Connection at St Martin's, a day centre for the homeless.
---
[05.16.2011] John Paul Jones will be performing with Seasick Steve Tuesday night (5/17), on BBC2's Later With Jools Holland. http://www.bbc.co.uk/later/
---
[04.09.2011] Andy Manson - The John Paul Jones Collection
Visit www.andymanson.co.uk/the_john_paul_jones_collection to see a collection of instruments created for JPJ by Andy Manson.
---
[04.07.2011] JPJ Performing with Spin Marvel @ Cheltenham Jazz Festival
Electronica jazz group Spin Marvel is led by the former Loose Tubes drummer Martin France, and features some of Europe's finest musicians including celebrated trumpeter Nils Petter Molvaer. For this performance they are also joined by special guest John Paul Jones, of Led Zeppelin & Them Crooked Vultures, on bass guitar. Praised for their use of textural soundscape and colour they have developed a distinctly European sound that is highly inventive and compelling.
Cheltenham Jazz Festival » Spin Marvel / Sat 30 Apr / 5:15pm / Arena
---
[03.16.2011] Bid for a chance to Win a 90 minute one-to-one bass guitar lesson with John Paul Jones – item "e10"
On the 19th and 20th March 2011, Resonance FM will be holding a live auction to raise funds to keep this unique project on air. Email your bid: auction@resonancefm.com
http://resonancefm.com/auction
---
[02.13.2011] Them Crooked Vultures Win Grammy for Best Hard Rock Performance
The 2011 Grammy for Best Hard Rock Performance went to Them Crooked Vultures for 'New Fang.'
New Fang
Them Crooked Vultures
Track from: Them Crooked Vultures
[DGC/Interscope]
---
[11.10.2010] John Paul Jones Honoured At Classic Rock Awards
John Paul Jones was given the Outstanding Contribution award at the Marshall Classic Rock Roll Of Honour Awards last night (10.11.10).
The bass player received the prestigious accolade at the annual event - which was hosted by Alice Cooper and Sarah Cawood at London's Roundhouse venue - for his body of work and revealed during his acceptance speech his career could have gone in a very different direction if had taken his dad's advice.
[Classic Rock Awards] [BBC News] [ContactMusic Report]
---
John Paul Jones To Appear At Manson's Guitar Show

[10.06.2010] Manson's Guitar Shop has announced that legendary bass player John Paul Jones (Led Zeppelin/ Them Crooked Vultures) will be appearing at this year's show taking place Saturday 23rd and Sunday 24th October. [Click here for full article]
---
JPJ @ PUNKT FESTIVAL 2010
September 4th Concert: Supersilent and a Surprise Guest
Punkt may be, in terms of size, a small festival; but it's one that has, since inception, been gaining an international reputation in leaps and bounds. Brian Eno attended the festival in 2008, and contributed his 77 Million Paintings for Punkt, multimedia installation, to Punkt Kunst, at the Sørlandets Kunstmuseum; British avant-singer David Sylvian, who already has ties to Punkt through work with some of its regulars—not to mention releasing Jan Bang's ...and poppies from Kandahar on his SamadhiSound label, contributing both the album and track titles—is rumored to be interested in attending in a future year. But nobody would have expected an ex-member of British rock group Led Zeppelin to be in attendance at Punkt, much less performing at it.
---
[09.20.2010] JOHN PAUL JONES TO RECEIVE GOLD BADGE

Led Zeppelin and Them Crooked Vultures bassist John Paul Jones, M People's Heather Small and soprano Lesley Garrett will pick up honours at next month's Gold Badge Awards.


The Basca-backed awards will also pay tribute to many industry professionals, including former EMI Music Publishing deputy managing director and MCPS board director Tom Bradley, Air Studios engineer and mixer Geoff Foster and Tony Moore, who runs south London's leading music showcase venue The Bedford.

In total 13 Gold Badge Awards will be presented at the Savoy on October 20 and Basca chairman Sarah Rodgers says this year's gongs will acknowledge people who work in a wide variety of fields, from journalism to session work.

"A Gold Badge conveys so much that would otherwise be left unsaid," says Rodgers. "It says, 'what you do for us songwriters and composers is remarkable and has not gone unnoticed'; it says, 'we couldn't do it without you'."

The other 2010 award recipients are Clare Torry, who famously performed the soaring vocals on Pink Floyd's The Great Gig In The Sky; composer Howard Blake; broadcaster Julian Joseph; community leader Chris Shurety; producer Phil Swern; writer Paul White; and producer and long-time Basca friend Brian Willey. [www.goldbadgeawards.com]
---
[09.10.2010] JPJ will be performing with Dave Rawlings Machine at the following shows, playing mandolin:
September 12, 2010
Glasgow, Scotland, ABC

September 13, 2010
Gateshead, England, The Sage

September 14, 2010
Leeds, England, Leeds Irish Centre

September 17, 2010
London, England, Troxy
---
[09.10.2010] John Paul Jones with Supersilent @ Punkt Festival, Saturday 4th of September 2010, Supersilent, Punkt, Kristiansand, Norway:
- www.allaboutjazz.com/php/gallery_image.php?id=49513
- www.flickr.com/photos/petterphoto
---
[08.06.2010] JPJ will be performing with an assortment of African musicians at Africa Express in Spain on August 7th, 2010. www.africaexpress.co.uk
---
[07.21.2010] Manson John Paul Jones Signature Bass Guitar
Whether looking forward as the bassist in Them Crooked Vultures laying down a groove with Dave Grohl and Joshua Homme, or to the past as the iconic legend, riff-master and songwriter in Led Zeppelin, John Paul Jones has a bass pedigree second to none. John has been performing with a vast collection of Manson Guitars creations for the past three decades both in the studio and for live work, including the historic Led Zeppelin reunion and also conquering the world all over again with Them Crooked Vultures. Now, after many years of refining, researching and testing, the legendary performer has placed his name to the main four-string Manson bass guitar that has been regularly seen in action across John's projects for the past 16 years.

The Manson John Paul Jones E-Bass model is a replica of the bass that Hugh Manson made in the early 90s and has become John's first call four-string ever since.
Featuring a maple through-neck construction, figured maple top, Aged Cherry Sunburst high gloss lacquer, ebony fingerboard, EMG pickups and active circuit, Hipshot D-Tuner, Schaller machineheads and Badass bridge, the specs reflect exactly the current upgraded hardware of the bass John is currently using on tour with Them Crooked Vultures.

Priced at a competitive £2099 (including high quality gig bag), the bass is currently available exclusively from Mansons Guitar Shop. Mansons Guitar Shop 01392 496379 | www.mansons.co.uk

---
---
[8.10.2009] Them Crooked Vultures
Metro (Chicago) concert review: The best show by far of Lollapalooza 2009 really was part of Lollapalooza in name only: the after-show at Metro in the wee hours of Monday morning that marked the world premier of Them Crooked Vultures, the new supergroup featuring Josh Homme of Queens of the Stone Age, former Nirvana drummer and current Foo Fighters leader Dave Grohl and the legendary John Paul Jones of Led Zeppelin.... [Read more]
[TCV official website] [ TOUR DATES ]
---
[04.14.09] John Paul Jones Interview (WWD Lifestyle)
---
Sara Watkins debut solo album, Produced by John Paul Jones
[04.07.09] Sara's long-anticipated debut album, produced by John Paul Jones, is out now. The album features a mix of original and cover songs and guest appearances by her former bandmates in Nickel Creek, John Paul Jones, David Rawlings and Gillian Welch, Tim O'brien, and many other great musicians. [sarawatkins.com]
John Paul Jones will be appearing with Sara on Late Night with Jimmy Fallon, Monday April 13th.

[Watch the Video]
---
[03.11.09] John Paul Jones and Sonic Youth Compose Dance Piece - Appearing at Merce Cunningham April 16th
John Paul Jones and alternative rock legends Sonic Youth have collaborated on an original musical piece for the Merce Cunningham Dance Company, and will perform together in Brooklyn, N.Y. in April. "Nearly Ninety," a new full length work composed by Sonic Youth, Jones and mixed-media sound composer Takehisa Kosugi, will debut at the Brooklyn Academy of Music on April 16, Merce Cunningham's 90th birthday.
The piece and its debut performances are part of "Merce Cunningham at 90," a four day festival celebrating the choreographer's work and influence. After its world premiere at BAM, "Nearly Ninety" will travel to Madrid, Champaign-Urbana, Paris, Berkeley, and London.
A long-time champion of improvisation and collaboration in dance, Cunningham and his dance company have worked with a number of musicians for past performances, including Radiohead, John Cage, and Sigur Ros.
Jones first performed with Merce Cunningham Dance Company in 2005, when he appeared as a guest musician with the Company's in London. Sonic Youth's Thurston Moore performed with the Company in the late 1990's.
John Paul Jones and Sonic Youth perform with the Merce Cunningham Dance Company, April 16-19. More info is available at bam.org.
---
[12.14.08] John Paul Jones appears at the 2008 Xmas Jam
(and pre-jam). Click here for a video clip with Del McCoury Band.
---
Rock Legends And Guitar Greats To Attend Mansons Guitar Show - OCTOBER 25th & 26th, 2008
[10.10.08] Packed full of exhibitors, a room full of electrifying guitar performances, and now a star studded line-up of guests headed by none other than Led Zeppelin's John Paul Jones – Manson's Guitar Show is sure to be the major guitar event of 2008.

Held over two days at the Riverside Leisure Centre in Exeter the guest artist line-up (with more names being confirmed daily) includes world class demonstrators on behalf of major manufacturers such as Marshall, Ampeg, Alvarez, Peerless, Goodfellow, Music Man, Paul Reed Smith and Manson Guitars.

Sunday will feature none other than Led Zeppelin's legendary multi-instrumentalist - John Paul Jones. John Paul was already a session legend in the UK before forming Led Zeppelin with Jimmy Page, John Bonham and Robert Plant, having worked with Jeff Beck, Donovan and performed or arranged for hundreds of artists. John will be answering questions during a special Q & A session on the Sunday of the show.
---
| | | |
| --- | --- | --- |
| | | |
| | | |
[6.17.08] Led Zeppelin were named the best live act of the last twelve months at Mojo Magazine Awards ceremony in London last night (June 16th).The band were honoured for their much anticipated reunion show, which took place at the O2 Arena in London last December. Jimmy Page and John Paul Jones were on hand to collect the award.
---
[6.8.08] Jimmy Page and John Paul Jones joined Dave Grohl w/ the Foo Fighters on their second night at Wembley Stadium in London last night. The one-night-only surprise jam featured 'Rock'n'Roll' and 'Ramble On'.
[4.28.08] John Paul Jones receives three nominations for the 2008 Jammy Awards. Click here to cast your vote!
Vote for the new Uncle Earl video on the Pure 12-Pack Countdown on CMT (Country Music Television) - a new contest where viewers can help choose what videos get broadcast. (deadline = Wednesday, April 30th). Click here
---
[3.24.08] John Paul Jones appeared with Robyn Hitchcock tonight at the Royal Albert Hall
[click here for Photos]. JPJ will also be joining him at Bergenfest in Norway on April 30th.
---
JPJ in Bass Player Magazine [interview]
BBC Radio2 Folk Awards 2008

[2.4.08] John Paul Jones will present an award and perform with John Martyn at the BBC Radio2 Folk Awards, Feb. 4th, 2008. [website]
John Paul Jones w/Foo Fighters @ Grammys

[1.24.08] As previously announced, the Foo Fighters will perform as part of this year's "My GRAMMY Moment" segment on the telecast (Feb. 10th). Produced in partnership with YouTube and CBS.com, up to 20 unsigned musicians will be given the unique opportunity to play with Foo Fighters as part of an orchestra created specifically for this event.

Three of these musicians will vie to be a featured instrumentalist during the performance.
Arranging the orchestral piece and taking up the baton as special guest conductor will be Led Zeppelin's legendary multi-instrumentalist John Paul Jones. Together the Foo Fighters, Jones and this talented musical ensemble will provide the world with an entirely new take on the Foo Fighters' hit single "The Pretender."
---
[1.09.08] Q&A With John Paul Jones - Rolling Stone
---
New Uncle Earl promo video featuring John Paul Jones - "Streak o' Lean, Streak o' Fat" from the album Waterloo, Tennessee.
---
(2007) John Paul Jones will be performing several shows with Robyn Hitchcock:

• July 30 (Modigliani,. Itally)
• August 1 (Bari, Italy)
• August 4 (Halden, Norway) Down on the Farm festival
• September 14 (Dorset, England) End of the Road Festival
---
Bonnaroo Festival "SuperJam" featuring John Paul Jones, Ben Harper,
and Ahmir "Questlove" Thompson
[6.06.07] Bonnaroo Music & Arts Festival will feature an all-star SuperJam, starting at midnight on Friday, June 15, 2007. Former Led Zeppelin bass player JOHN PAUL JONES will anchor a trio featuring one of music's most innovative modern bluesmen, guitar wizard BEN HARPER, and Roots drummer AHMIR "QUESTLOVE" THOMPSON. The SuperJam is one of the most highly anticipated features of the festival, combining the talents of a diverse set of musicians for a one-time-only collaborative performance.
---
[12.21.06] So it's Christmas, and it seems like only yesterday since I wrote the last message! The main focus for the past year seems to have been acoustic music.
In March I produced an album for Uncle Earl, an old-time stringband (www.uncleearl.net). I had the best time ever with this record, the girls are great musicians and brilliant fun to work with. We started pre-production at banjoist Béla Fleck's house, then went up to Seattle and Tacoma where the g'earls were playing at Wintergrass. This is a big bluegrass festival in a hotel in Tacoma and it was totally amazing. There were hundreds of musicians everywhere, in the lobby, in the rooms, in the elevators, anywhere there was a space, and concerts thru the days and evenings. After that there were jam sessions in peoples rooms on every floor till the early hours. Madness! I met many friends there and also got to play acoustic bass guitar on stage with Mike Marshall and Hamilton di Hollanda (see pics). We then went back down to Nashville and moved to Karian studio in Hendersonville, about 35 miles north of Nashville. It was then a few weeks of acoustic heaven before mixing at Sound Emporium in Nashville with our ace engineer Dave Sinko. Apart from getting a load of work down I basically spent the whole month laughing, it doesn't get much better! The record will be out in the US March 13 on Rounder records.
I also attended Sore Fingers, a bluegrass camp in the UK as a mandolin student! John Moore was the teacher, he taught Chris Thile mandolin and Sean Watkins guitar, a chance I couldn't pass up. Rayna (from Uncle Earl) was also teaching old-time fiddle there, and we had many great jams together. Now I've caught the fiddle bug… I've also been playing with Robyn Hitchcock and sat in with Glenn Phillips (Toad the Wet Sprocket, MAS) at the Troubador.
The autumn saw us in Lunel, and I ended up playing with Italian bluegrass musicians, Venezuelan traditional players and Hamilton di Hollanda's Brasillian band, I guess I should stop having so much fun...
Ok, so the album is coming slowly, but it's coming!
Wishing you all Happy Holidays
---
[5.22.06] Led Zeppelin receives the prestigious Polar Music Prize in Stockholm. [photo]
View the awards ceremony video here.
---
[4.24.06] Recent JPJ interview with the amusing Wichita [mp3 podcast]
---
[Feb. 2006] Hi Everybody - Well I'm still here, and the album is still coming! I know it's a bit slow (ok, the understatement of the year) but it will be good.
I'm taking time off shortly to produce a record for Uncle Earl (www.uncleearl.net) which is a fabulous old-time string band. They are great musicians and very cool people. We will be cutting a mixture of traditional and original music, and it should be great fun!
Lunel was brilliant as usual and the whole looping thing seemed to go down well, my half-hour spot stretched to an hour with 2 encores, for the last of which I was joined by Mike Marshall and brilliant young mandolinist Josh Pinkham, all playing my triple-neck!!
There are pictures… [1] [2] [3] [4]
Earlier this month I played a show in London with Robyn Hitchcock in aid of Medecin Sans Frontiers. Also in the band were Peter Buck, Scott McCaughey and Bill Rieflin from REM. I joined the set with a killer version of '8 Miles High'!
So thank you for your patience, it will be rewarded.
John Paul
February 2006
---
[10.03.05] Hi All, an update of sorts.. Still not much further with the album, although it's coming clearer in concept and I am practicing like crazy! The Merce Cunningham event was brilliant, 75 minutes of free improvisation was pretty exciting, and it was good fun working with the other musicians (Steven Montague & John King first show, Takehisa Kosugi & Kaffe Mathews the second). It was a really interesting experience and artistically more food for thought.
I have also been playing mandolin and my new mandocello, with Robyn Hitchcock on a couple of shows, and I sang "Anthony" with Nickel Creek when they came to London last month to promote their new record "Why Should the Fire Die". Mo and I took them out to a great Indian restaurant, which everyone enjoyed until some of the younger ones got involved in a chilli-eating contest…
I am taking a week out to go to Lunel again, only this time I shall play a short solo show. I am taking the triple-neck mandolin and Kyma (as heard on "Down to the River To Pray" on Thunderthief). I will use it with a looping set-up and also with some processing that I created for the John Cage and Merce Cunningham events. I'm also looking forward to seeing (and hearing) mandolinist Mike Marshall again. It was he that invited me last year, a brilliant musician.
So there you are, the album is still a very high priority but it must be right!
John Paul
---
[9.29.05] BBC 4 airs a recent Bob Dylan tribute concert on Sept. 30, Talking Bob Dylan, which features a guest appearance by JPJ.
[9.21.05] John Paul Jones will be performing at the Lunel Mandolin Festival, in the south of France on October 29th, for a half-hour set including triple-neck mandolin and Kyma.
---
[5.20.05] Hi All -- Well.. I haven't got very far with the album, stuff happened! First off I went to LA for the Grammys. That was quite good fun - a chance to catch up with some old friends, the award was good too. Whilst there I played on the new Foo Fighter's record at the invitation of Dave Grohl.
I went out to their studio and spent an enjoyable time putting mellotron and mandolin on a couple of tracks. The band was very friendly, not to mention huge Zeppelin fans, so by the time I gave them a little Rainsong on the mellotron I could do no wrong!
Since then I have written a short piece for The Brighton Festival Youth Choir and Orchestra, which will be performed this Sunday 22nd May at the Dome (www.brighton-festival.org.uk). The choir is 30 strong and the orchestra is full symphony size, so lots of notes. The choir, for whom the piece was commissioned, are particularly enthusiastic and raise the roof with their voices. The piece is called "Guerres de lEau", (Water Wars). I have also just completed (today) a piece for COMA, which is the amateur music society of Great Britain (www.coma.org). I believe it will be recorded.
I'm now going to prepare some Kyma programs to use with the triple-neck mandolin for the upcoming Barbican shows with Merce Cunningham (www.merce.org). They promise to be really different - free improvisation, I believe there will be just a sound check...
Then back to the album..er, honest..
John Paul
---
[May 20] JPJ Composes Classical Piece for Brighton Youth Orchestra/Choir
John Paul Jones contributes a short classical piece for the Brighton Youth Orchestra & Choir at the Brighton Dome on May 22. The world premiere composition, commissioned for and performed by the dynamic Brighton Festival Youth Choir, also features new material composed by Stewart Copeland and Peter Gabriel.
[May 11] JPJ will be appearing as a guest musician at the Merce Cunningham Event on June 17th. The dance improv performance takes place at the Barbican Theatre, London. "A celebration of Cunningham's visionary collaborations with guest visual and musical artists. Each event will contain different choreography, different décor and different musical accompaniment."
[Photo] Led Zeppelin receives Lifetime Achievement Grammy Award.
[1/18/05] John Paul Jones will be attending the 47th Annual Grammy Awards in February, where Led Zeppelin will receive a Lifetime Achievement Award.
[11/07/04] Hi All - I have now started to write and record for the new album. I'm sort of doing both things at the same time, a new approach that I am hoping will make for a more organic process.
I took some time out last week to attend a Mandolin festival in Lunel in the south of France. I went on the invitation of Mike Marshall, who I met at Merlefest and again at the Mandolin Symposium. He was there playing with a fantastic Brazilian mandolinist by the name of Hamilton de Holanda, who is the top exponent of a style of music called Choro (pronounced 'shorro'). Choro is the forerunner of Samba, and is both a melodic, harmonic and rhythmically complex form of music. Mike and Hamilton did solo spots and then the two played together. I can't tell you how exciting, both musically and visually it was watching these two brilliant players spark off of one another. The music was both passionate and soulful as well as being technically dazzling, I felt privileged to be there. They were also two extremely nice guys, in fact they persuaded me to join them on stage for one (funky, but slower!) number, that I played on a borrowed double bass. Lunel is now witness to my first ever double bass solo...
So, all of my instruments have been restrung, no small matter, and I am writing / playing / practising / listening / singing / recording / walking, anything and everything necessary to get the music flowing!
Ok, back to it...
John Paul
JPJ has answered some questions from fans on the message board.
---
[8/25/04] Well, here I am, back in England. The MAS tour has finished and I shall take a few weeks off to recover! The whole experience has been immensely enjoyable and I have found myself inspired by the great musicianship (and energy!) of my fellow bandmates. It is a pleasure to work with people who are not only extremely talented but who have a great enthusiasm for any and every kind of music, and they can play it!
I would also like to thank everyone who turned out to see us. It was so nice to be appreciated by Zep, Toad, and NC fans, rock and bluegrass fans alike. Diversity and the crossing of borders has for me always been one of the most interesting aspects of making music, (something those that know me may have already guessed!) but we need a ready, willing and open-minded audience to complete the experience, thank you for being just that. I hope now to spend the next few months writing and recording for my next solo album and attempt to turn all this inspiration into hard currency whilst the fingers are hot and the brain is buzzing!
Keep rockin'
John Paul Jones
---
[8/10/04] Photo from last week's Mandolin Symposium in California. [photo 1] [photo 2] [photo 3] [photo 4]
---
August 2004
Welcome to my new site. I know it's been some time coming but life seems to be rushing past at the moment! I am writing this looking at redwood trees on the campus of UC Santa Cruz, where a week long mandolin symposium has just finished, and Chris Thile and I are flying to Minneapolis today to rejoin the MAS tour (Mutual Admiration Society). I have many things now to practice! The tour is going well and I am enjoying playing bass again, even the bus is fun..
The site will be growing over a short time and we hope to have many interesting and exciting things to come. I now have Sam Rapallo on board (led-zeppelin.com) and he has promised to ensure that this does not become a cobweb site, so he will be on my assignment..
So, hope you enjoy it and, well, come along and see us on tour!
Best,


John Paul Jones